What is a Dental Assistant?
A Dental assistant is support staffer who helps the dentist with a variety of patient care and treatment task. Their duties include explaining procedures to patients, instructing patients in oral care, sterilizing instruments, preparing instrument trays, providing chair side assistance during dental restorative procedures, order dental supplies, and maintaining treatment records and patient histories. Dental Assistants may perform additional duties, such as applying temporary dental crowns, making tooth impressions and processing x-rays.
What are the Responsibilities of a Dental Assistant?
The average Dental Assistant will be responsible for:
Making Patients as comfortable as possible in the dental operatory.
Preparing patients for treatment.
Obtaining dental records.
Passing instruments to the dentist.
Keeping patient's mouth dry by using air suction and other devices.
Sterilizing and disinfecting instruments and other dental equipment.
Prepare tray setups for dental procedures as needed.
Instructing patients on postoperative and general oral health care.
Prepare materials for making impressions and restorations.
Expose radiographs and process dental x-ray film as directed by the Dentist.
Remove dental sutures (Excludes wire sutures in Alabama).
Apply topical anesthetic to gums or cavity-preventive agents to teeth.
Remove excess cement used in crown and bridge procedures.
Setting up patient exam rooms.
Place rubber dams on teeth for individual isolation.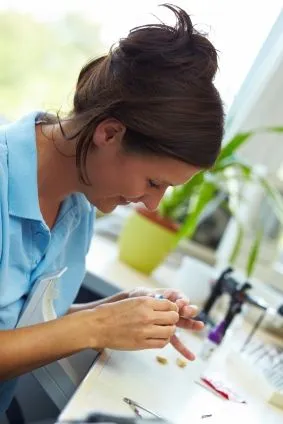 Other Duties of Dental Assistants
The Average Dental Assistant with Laboratory Duties will be responsible for:
Making casts of the patient's mouth and teeth by using dental impressions.
Cleaning and polishing removable appliances.
Making temporary crowns.
Making casting molds
The Average Dental Assistant with Office Duties will be responsible for:
Answering office phones.
Scheduling and confirming patient appointments.
Greeting and receiving patients.
Filing patient records.
Updating patient treatment records.
Financial services.
Ordering clinic supplies and materials.
Performing data entry.
Managing office finances.